GLASS FACADE FOR SUSTAINABLE ARCHITECTURE AND LIVING – HORIZON 2020
Q-Air represents one of the leading European innovations, which is underlined by being selected and supported by Horizon 2020 programme, a Fast Track to Innovation Pilot scheme. The Q-Air project is being implemented by five international consortium partners Trimo d.o.o. and ZAG - Slovenian national building and civil engineering institute from Slovenia, Kohlbecker Gesamtplan from Germany, Cantori s.r.l. from Italy and Skandinaviska Glassystem from Sweden.

PERFECT SOLUTION FOR nZEB, NO NEED FOR EXTERNAL SUN SHADES
Q-Air is a unique, multi-chamber insulating glass facade system, requiring no exterior sun shadings. Up to six layers of glass create an innovative insulating core, which is available in transparent, translucent and opaque options to allow Q-Air to deliver unparalleled energy savings. Q-Air is a perfect solution for nearly zero-energy buildings (nZEB) delivering outstanding thermal insulation of complete curtain wall system. Specifically, the fully transparent glazed façade offers an extreme level of thermal insulation, where thermal transmittance is only Ucw ≥ 0,30 W/m2K.
CONSTANT INDOOR TEMPERATURE
No cold draught and no excessive solar heat gain

Q-Air provides constant interior thermal comfort by keeping the temperature at a stable level at all times, personal well-being and productivity of occupants are improved. Using Q-Air, seasonal climate peaks for highly glazed buildings are perfectly managed:
Winter: Due to high thermal insulation level (low U value), energy loss in winter is low and low solar heat gain (low g value) is sufficient. That's why less energy for heating is consumed.
Summer: Due to low solar heat gain (low g value), no excessive solar heat gain appears and less energy for air conditioning is consumed.
MAXIMISED NATURAL DAYLIGHT

Q-Air maximises natural daylight and helps create a visually stimulating and productive environment for building occupants. Due to superior thermal insulation level, low solar heat gain and world class engineered system using no external sun shades, Q-Air enables large areas of the facade to be transparent therefore allowing the building interior to be naturally illuminated during the day and views to the outside both day and night.

ENERGY USE FOR HEATING LOWER THAN 5 kWh/m2a
As a result of the research work in the field of multiparametric analysis of daylight and thermal performance within the Q-Air H2020 project an office building model was created and calculated in BIM environment. The results are very promising for the current and future built and environment and were presented by ZAG and Trimo at Advanced Building Skins conference in Bern. In case of using Q-Air glass façade system (six-layers of glass) instead of conventional triple glazing (three layers of glass), the reduction of energy need for heating is in the range of 81% to 98% (based on calculations for three locations – Oslo, Munich, Madrid). More accurate, energy need for heating is up to 2,8 kWh/m2a in Oslo and up to 0,1 kWh/m2a in Munich. Also, energy need for cooling is lower.
Figure 1: Comparison of energy need for heating (left) and cooling (right) for office building with façade with 100% of transparent surface with view to the outside both day and night (without shading)
CASE STUDY: OFFICE BUILDING REFURBISHMENT IN OSLO, NORWAY
The installation of the Q-Air glass façade on a multi-storey building Wergelandsveien 7 listed as a protected monument in the centre of Oslo in Norway is an important accomplishment.
The installed Q-Air glass elements have Ug value of 0.24 W/m2K, while the system has a Ucw value of 0.36 W/m2K and sound reduction of 45 decibels (Rw).
The occupants of the building are very pleased with the interior comfort. A person can stand by the glass wall in the restaurant on the ground floor with an outside temperature of minus 15 degrees Celsius without feeling any cold draught at the glazing. Furthermore, in summer, the low solar gain coefficient (g) of 0.25 prevents the overheating of the inside of the building.
The refurbishment resulted in significant annual energy savings. During the renovation, the building was fully in operation and the architecture of the building dating back to 1960's is completely preserved.
A NEW GENERATION OF GLASS FACADES
The Q-Air innovative glass façade really is a next generation building product and one that looks set to define how sustainable glazed buildings can be constructed now and in the future.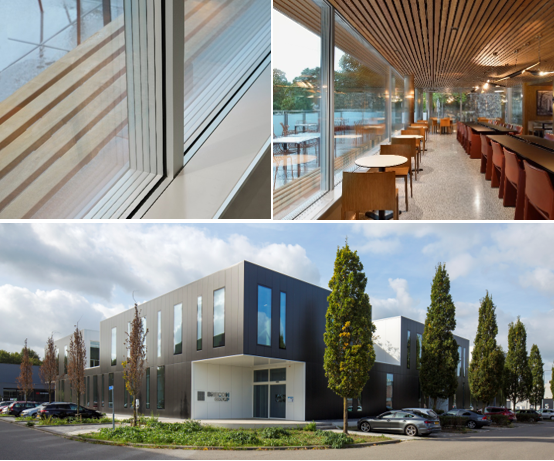 This project has received funding from the European Union's Horizon 2020 research and innovation programme under grant agreement No 737757.