SUPERIOR ENERGY EFFICIENCY
Highest thermal and visual performance
Q-Air is the only glass curtain wall system in the world, which provides superior energy efficiency whilst maximizing the prevention of excessive solar heat gain and delivering unimpeded visual contact with the environment.
Full transparent low-energy building solution
With Q-Air a low-energy building with an annual energy consumption as low as 25 kWh/m2 can be achieved using no exterior solar shading and with 100% share of transparent facade area. This is unmatched by any other single skin glass façade system.
Energy savings up to 30 %
Q-Air enables energy savings of up to 30 % and significantly contributes to exceptional energy efficiency of the building, due to the highest thermal performance and lowest energy consumption during the whole lifetime of the building. Thermal performance of Q-Air is at least double that achieved by triple glazed conventional glass curtain wall systems.
Q-Air glass curtain wall compared to conventional glass curtain wall systems
Q-Air is designed to provide exceptional thermal, visual and acoustic comfort which beneficially contributes to improved well-being and health of people inside the building.
Maximised natural daylight
Due to superior thermal insulation level, low solar heat gain and world class engineered system using no external sun shades, Q-Air enables larger areas of the facade to be transparent therefore allowing the building interior to be naturally illuminated during the day and views to the outside both day and night compared to conventional glass facades.
Highest thermal insulation, no excessive solar heat gain
Q-Air transparent and translucent optimally utilizes solar energy without any need for external solar shading systems, since the high thermal insulation of Q-Air and low solar heat gain provide optimal and constant building thermal performance. Less air-conditioning inside the building is needed.
Panoramic glazing
Q-Air manages solar heat gain, thermal and light transmittance so perfectly that a 100% transparent glazed area is achievable whilst fulfilling the building regulations for thermal insulation and total energy consumption of the building.
No obstruction with external solar shading devices
Q-Air is a total performance glass curtain wall system, which doesn't need any external solar shading devices that are commonly used with conventional glass curtain wall systems.
Acoustics
Q-Air provides an excellent working and living environment with superior noise control inside with sound insulation levels up to 60 dB.
Thermal / thickness ratio
Q-Air was developed to provide exceptional thermal performance in a consistent minimal wall thickness which is unique.
Q-Air provides up to 30 % thinner wall, compared to average double/triple glazing systems and
up to 4 times thinner wall compared to double skin glass facades.
High aesthetics and multiple design possibilities allow Q-Air glass facade to meet the widest architectural ideas and aspirations.

Architectural glass curtain walling:
Structural, flush interior and exterior look available
Light transmission options - transparent, translucent or opaque
Extensive choice of decorative glass options
No external solar shading systems needed
Structural, flush interior and exterior look available
Q-Air is a game changer for the new future of sustainable architecture and construction. It is a perfect match for sustainable cities.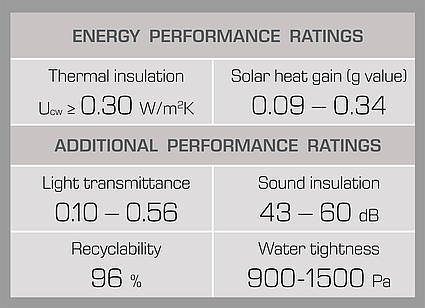 Q-Air assures sustainable benefits:
Maximised well-being and comfort for occupants
Greater transparent-to-opaque glazed area ratio, up to 100% transparent
Exceptional energy savings
Building energy performance towards nZEB - Nearly Zero Energy Building
Unrivalled combination of key performance criteria (g, Ucw, LT values)
Short construction time
Low waste and high recyclability
Investment and maintenance benefits
High quality prefabricated solution - less need for future refurbishment
Real sustainable refurbishment of existing buildings, either all-glass buildings or buildings incorporating other materials (e.g. stone, wood), can be achieved by using Q-Air unitised and ready to-install façade system.
Using Q-Air the building life-time is prolonged, building aesthetics is increased, energy efficiency is improved and well-being of building occupants is enhanced. Refurbished a building can be undertaken without any interruption to its operation or disruption to occupants and their daily activities.
Where architectural layout and appearance of the original building needs to be preserved to match the buildings original, Q-Air is a perfect match.
Watch the Video of the state-of-the-art office building refurbishment in Oslo, Norway.