Q-AIR INNOVATIVE EUROPEAN PROJECT
Q-Air represents a new generation of glass façades and is recognized by European Commission for being exceptionally innovative, energy efficient, sustainable and for its technical performance, which impacts positively across architecture, building construction, refurbishment and wider society.
European project Q-Air started on January 1st 2017. Five international consortium partners; Trimo, Architectural solutions, d.o.o., Kohlbecker Gesamtplan GmbH, ZAG, Slovenian national building and civil engineering institute, Cantori s.r.l. and Skandinaviska Glassystem AB from Slovenia, Germany, Italy and Sweden respectively, will carry out tasks for successful implementation of Q-Air project in two years, 2017-2018. Three partners are SMEs and one partner is institute.
Q-Air project is co-funded by European Commission under the call FTIPilot - Fast Track to Innovation Pilot, Horizon 2020. The overall budget of the project is 3.42 million EUR and the project will last for 24 months.
Co-funded by the European Union
This project has received funding from the European Union's Horizon 2020 research and innovation programme under grant agreement No 737757.
Project Title
Sustainable Prefabricated Glass Façade with Performance Exceeding State-of-the-art Glass Façades.
Acronym: Q-Air
Call
H2020-FTIPilot-2016 (Fast Track to Innovation Pilot).
Consortium Partners
Trimo, architectural solutions, d.o.o.
Kohlbecker Gesamtplan GmbH
ZAG, Slovenian national building and civil engineering institute
Cantori s.r.l.
Skandinaviska Glassystem AB
The Q-Air project plan consists of six work packages from product-system development finalization with technology optimisation, certification, BIM, sustainability characterisation, innovation dissemination and exploitation to project management.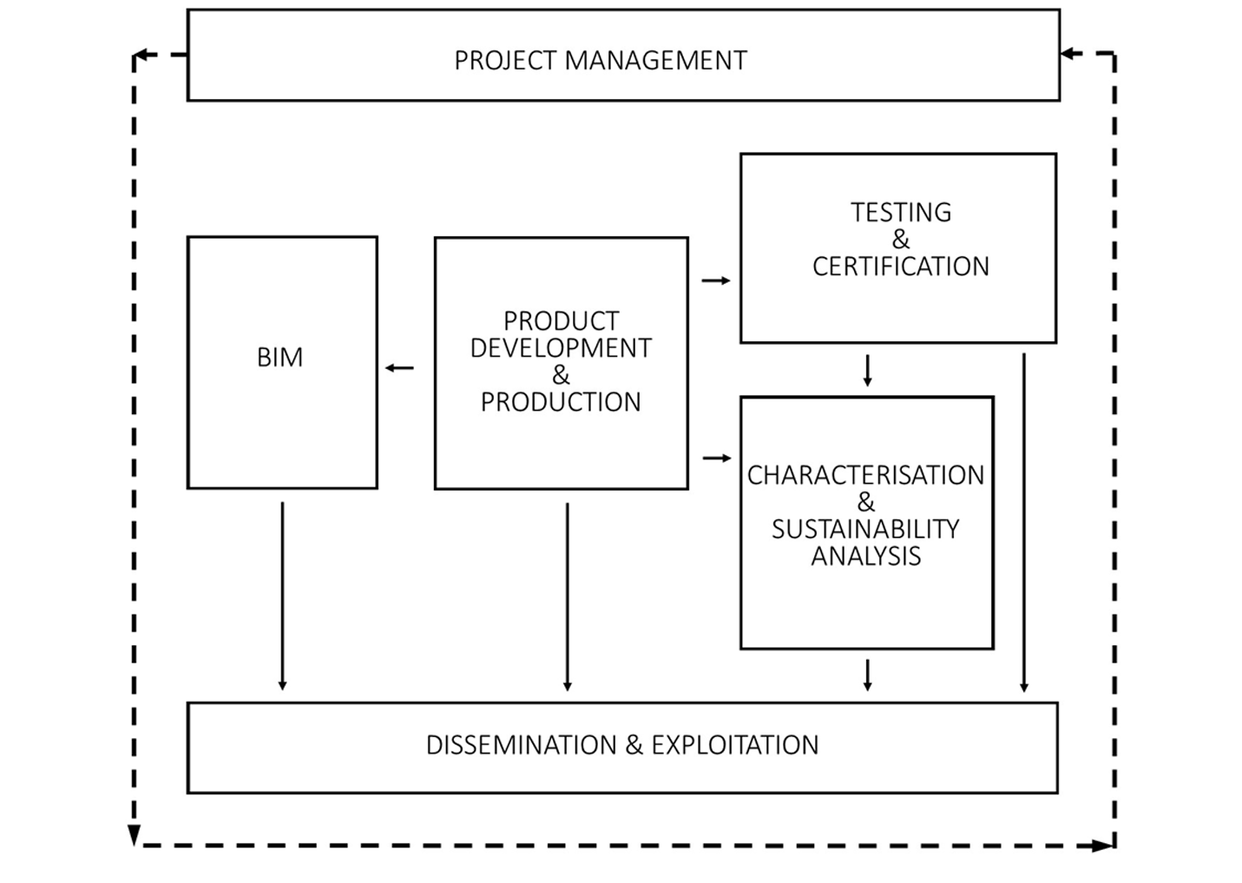 WP 1: Management
The daily management of Q-Air project and its advancement is procured under this work package. Organisational, administrative and communication aspects of the project are assumed by the managerial structure, consisting of Steering Committee, Technical Supervisor, Production Line Supervisor, Innovation Manager, Exploitation and Dissemination Board, all reporting to the Project Coordinator.
WP 2: Q-Air façade system development with improved characteristics and more competitive production cost
With development activities in final stage, we will enhance Q-Air façade system for wider usage by developing profiles for longer spans, large size elements, additional cover material applications, adjusted system for refurbishments and by optimizing production line capacity. We will establish expert knowledge centre.
WP 3: Testing and certification
Developed Q-Air elements and system in different conditions and for different building requirements will be tested and certified.
WP 4: Development of Building Information Modelling (BIM) process
For architectural, design, production and installation purposes Q-Air BIM library will be developed and tested on specific Demo Case Study. Guidelines and tools for further BIM process integration into industry sector will be prepared.
WP 5: Analytical characterisation and sustainability analysis
Technical properties will be analysed using numerical methods and calculations of environmental impacts for variety of product-system options will be prepared. Impact on the sustainability according to different methods used for building assessments will be elaborated. We will numerically evaluate occupants comfort in the building with Q-Air façade by taking into account key aspects such as thermal, visual and sound comfort, air quality, natural daylighting for different climates (locations) as well as orientation of buildings.
WP 6: Innovation dissemination and exploitation
A comprehensive action plan for the effective dissemination and exploitation of Q-Air project results will be elaborated. We will prepare variety of Q-Air contents and materials for presentation and demonstration purposes to all stakeholders and make publications. For architectural, construction, sustainability and other professionals we will organize educational events, present Q-Air on international conferences and fairs. We will participate on science conferences, submit scientific articles and prepare guidelines for more sustainable glass façade construction. We will also prepare a Call for international competition for architects and young students of architecture from the globe to provide the best architectural and sustainable solution using Q-Air innovative glass façade system.
Trimo is one of Europe's leading companies developing original and complete solutions for building envelopes, steel constructions and modular space solutions for more than 55 years. With an innovative approach and commitment to sustainable development Trimo continuously researches and develops new products, solutions, technologies, business models, processes and markets. Trimo is forging strong and good long-lasting relationships with its target audiences creating new and added value for clients and other stakeholders. Trimo has a sales network in almost 30 countries and production facilities in Slovenia and Serbia. Trimo realized numerous building projects in more than 100 countries worldwide.
The Kohlbecker architecture office was founded in 1930 by Karl Kohlbecker. Today the Kohlbecker Gesamtplan GmbH is managed by the third generation of the Kohlbecker family and employs a total of around 150 staff in its offices in Gaggenau (head office), Munich and Cologne.
Our expertise lies in construction-related consulting and planning from one source for both domestic and international projects. The spectrum of services ranges from construction site localization and assessment services, to general planning, project management, design, building certification and the turn-key completion of construction. We plan buildings, from residential units to office complexes, from workshops to production plans, from a boutique hotel to theme parks.
The daily work at Skandinaviska Glassystem is closely linked to the visions of contemporary architecture. This is why new design never ceases to inspire us. In order to succeed we need to understand the technical and the aesthetic aspect of every project and every pre-design we´re involved in.
SGS is recognized as one of the leading innovators of advanced building envelops in Scandinavia. Our future challenge is to meet tomorrow's demands for sustainability, energy and design by continued research and development of new building systems and concepts.
ZAG is a public, non-profit, state owned body. Its main activities include fundamental and applied research, development of new methods of testing and measurement, certification and attestation of conformity of products, training of research and technical staff in particular technical fields, participation in the preparation of technical codes and standards. Main research focus at ZAG are put on: 1) energy efficiency and LCA analysis, building physics research, 2) synthesis of new materials (organo-inorganic composites, nano self-cleaning coatings etc.), 3) secondary raw materials (industrial waste, etc.), 4) degradation processes (corrosion of metals, microbial deterioration etc. 5) earthquake engineering (experimental and analytical method), 6) development, maintenance and testing of road infrastructure.
Founded in 1975, Cantori specialises in laminated metal sheets. Today the company is recognised as a LEADING SUPPLIER of a wide variety of architectural materials: design oriented and mainly for facade cladding. Apart from that, Cantori OFFERS A COMPLETE PROFESSIONAL SUPPORT: from technical and design consultancy to the planning and prototyping, to the extent of the realisation and delivery stages of the finished product, already assembled and packed.
For more than 40 years, Cantori has given a great importance to customer requests, supplying TAILOR MADE SOLUTIONS thanks to its know-how and continued investment on a CUTTING EDGE TECHNOLOGY RESEARCH, providing TOP QUALITY and HIGH LEVEL CUSTOMER SERVICE.
Q-Air a New Generation of Glass Facades
Q-Air innovative unitised glass curtain wall system represents a new generation of sustainable glass facades and is a unique single skin glass façade that offers all the performance and benefits of an active double skin façade. Q-Air provides superior energy efficiency, and thermal and visual comfort, whilst maximizing the prevention of excessive solar heat gain and delivering unimpeded visual contact with the environment. Q-Air beneficially contributes to improved well-being and health of people inside the building.
To assure a complete building envelope solution for any building type or application, Q-Air is available in transparent, translucent and opaque unit options supported by either polymer or aluminium extrusion profiles. Q-Air can be used either for new constructions or refurbishments, either for all-glass buildings or buildings incorporating other materials.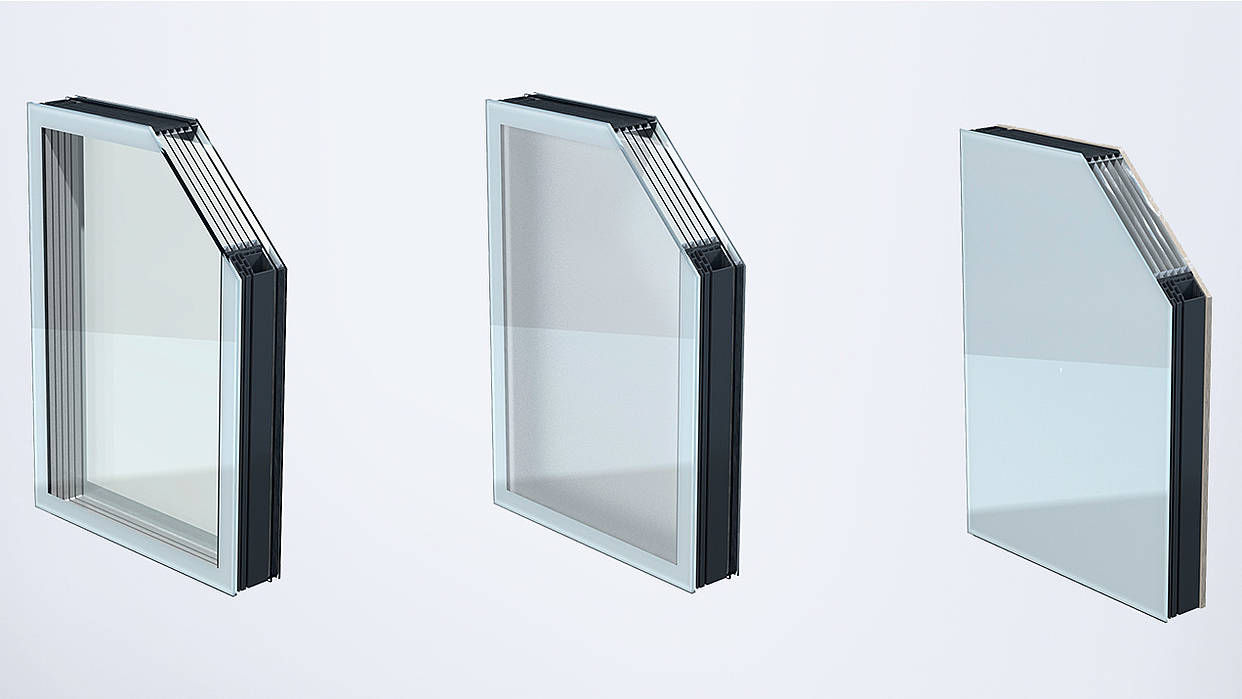 Innovative Multi-Chamber Core
Using the science of thermodynamics and advanced structural glazing technology, Q-Air is a game changer for the new future of sustainable architecture, construction and living. Q-Air uses an innovative, multi-chamber insulating core, which delivers exceptional energy efficiency, living and working comfort, ultimate aesthetics and economic benefits.
Q-Air uniforms large, fully structural glazed surfaces. Available as a structural external and internal face without any visible frames, emphasizes an attractive flat architectural solution. Q-Air as a total performance glass curtain wall system doesn't need any external solar shading devices that are commonly used with conventional facade systems.
Innovation in Action
Q-Air glass facade manages solar heat gain (g value), thermal transmittance (Ucw value) and light transmittance (LT value) so perfectly that a full transparent glazed area (panoramic glazing) is achievable whilst fulfilling the building regulations for thermal insulation and total energy consumption of the building. Q-Air provides superior thermal insulation level Ucw ≥ 0.30 W/m2K for fully transparent glass façade.
World's best-performing glass curtain wall system:
Exceptional energy efficiency and living comfort:
Ucw ≥ 0,30 W/m2K


g = 0,09-0,34


LT = 0,10-0,56
Larger areas of the facade to be transparent
Doesn't need any external solar shading devices
The thinnest glass curtain wall with the highest thermal insulation
Increased usable building space
Flush internal and external design available
Office building refurbishment in Oslo using Q-Air:
Co-funded by the European Union
This project has received funding from the European Union's Horizon 2020 research and innovation programme under grant agreement No 737757.