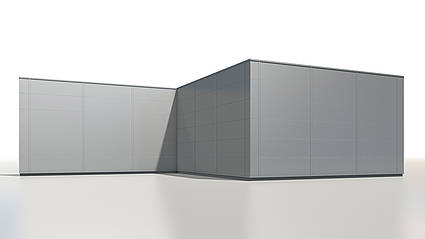 Horizonta linsulated wall panel system
Horizontal façade
A horizontal installation of a façade is extremely effective due to the self-supporting characteristics of Trimoterm façade panels; technically it ensures optimal usage of the façade panels' load-bearing capacity. A horizontal installation enables the use ofdifferent panel widths, numerous details and various textures. The basic fixing method of a horizontal façade involves the use of the aluminium HF102 profile. It is possible to combine various widths of panels too.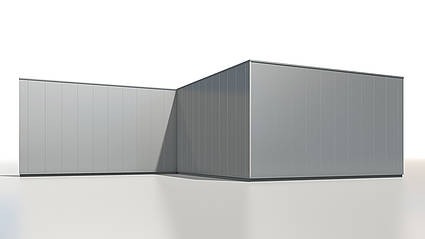 Vertica linsulated wall panel system
Vertical façade
Vertical panel installation follows classical installation methods and is the most suitable choice for high constructions with heavy external loading.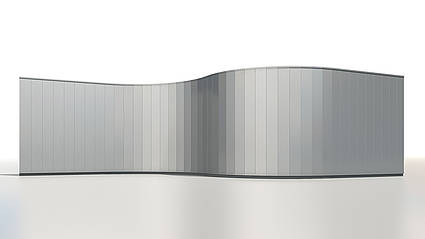 Segmenta linsulated wall panel system
Segmental façade
A segmental façade enables the formation of rounded surfaces and gives buildings a new dimension. Standard segmental façade solutions provide quick, simple and reliable construction of even the most demanding buildings.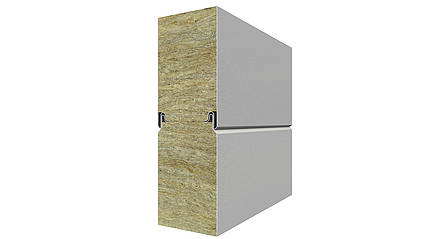 STANDARD system
STANDARD system
Trimoterm standard system (FTV) represents the basic fixing method of Trimoterm panels and is suitable for horizontal, vertical and segmental installation of panels.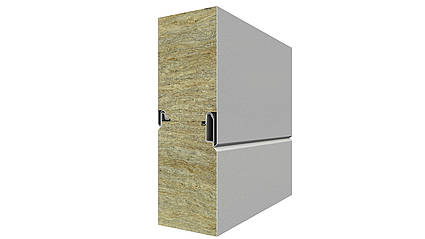 INVISIO system
INVISIO system
Trimoterm FTV Invisio (FTV HL) fireproof façade panels offer a clean façade outlook with no visible fixings. Panels are mainly intended for vertical installation, but under certain conditions and with limitations, can also be used for various horizontal cladding applications.
Steel sheet metal is hot galvanised in compliance with EN 10346, and additionally protected by an organic coating in accordance with the coil-coating process (DIN EN 10169/1).
The following basic types of organic coatings protection are applied to steel sheet metal based on:
SP polyester
PVDF polyvinylidene fluoride
PUR polyurethane
PVC polyvinyl chloride, coating or film

We have a wide range of colour finishes available for any building, which are engineered to capture the perfect look internally or externally of the building design. Colours available are: white (R9010), grey white (R9002), cream (R1015), light grey (R7035), agate grey (R7038), tele grey 2 (R7046), silver (R9006), dark silver (R9007), traffic red (R3020), moss green (R6005), gentian blue (R5010) and anthracite (R7016).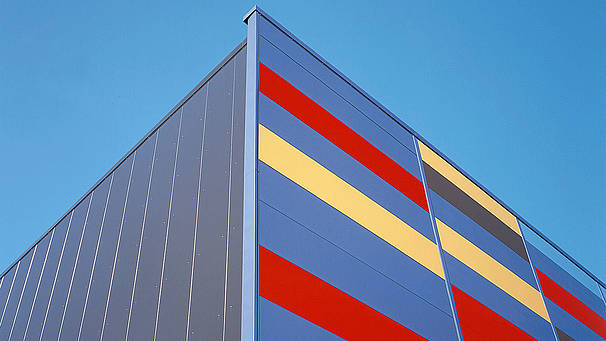 Wide range of colour finishes available
| | |
| --- | --- |
| Panel thickness [mm] | 50 – 240 |
| Max. achievable fire resistance (EN 14509) | EI 30 - EI 240 |
| Combustibility of insulant core (EN 13501-1) | Non - combustible, class A1 |
| Airborne sound insulation Rw (C;Ctr) (dB) EN 14509 | 30 (-2, -3), 32 (-1, -2) |
| Cover width [mm] | 600 - 1200 |
| Panel length [m] | up to 14 |
| Weight FTV [kg/m²], (Fe 0.55/Fe 0.5) | 14.4 – 38.0 |
| *U Thermal transmittance [W/m²K] (EN 14509) | 0.77 – 0.15 |
Trimo ensures that accurate and comprehensive information is always available because the company knows that the essence of a successful project lies in the detail.
Trimo's team of experienced specialists ensures precise, timely and quality technical information. A selection of useful information for architects and designers is available on request.
Trimo also welcomes your opinions, observations and questions regarding its wall system and will do its best to provide answers as quickly as possible.

For technical information:
technical@remove-this.trimo-group.com
For commercial inquiries:
At Trimo, quality and excellent technical characteristics of itsinsulated wall systems and roofs are supported by numerous certificates that help the company fulfil different demands, from business processes to legal restrictions as well as the conditions that are set by insurance companies all over the world.
The acquired and attested certificates for business processes:
For a quality management system according to ISO 9001
For an environment management system according to ISO 14001
For occupational health and safety management systems according to ISO 45001.